With the tools of NVC (NonViolent Communication)
Positive communication is an invitation to be assertive without crushing others, to be natural without being impulsive, peaceful without being extinct, authentic without being volcanic, to listen to others without forgetting oneself. Between rebellion that says too much and submission that swallows one's words, there is a third way: that of positive communication.
It allows for clarity, autonomy, assertiveness (the ability to say what is important for oneself while taking into account oneself and the other) and the courage to speak up about difficult messages. As an art of dialogue that can be learned, a way of being in a relationship that encourages cooperation to take care of each person's needs and values. Positive communication works with the tools and philosophy of NonViolent Communication created by Mr. Rosenberg to develop our emotional intelligence.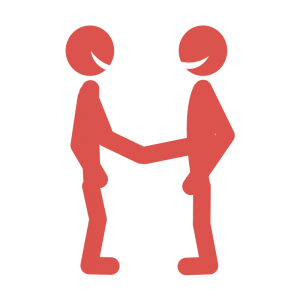 What is positive communication?
It helps avoid violence in relationships and invites people to connect with themselves and with others by finding ways to be heard without aggression, because it is concerned with everyone's point of view.
It allows us to naturally establish trust and a taste for cooperation, because we are no longer against, but with the other.
Positive communication makes it possible to win, but never alone or to the detriment of anyone else.
This training is adapted to the company. However, our experience in this area allows us to propose the following objectives:
DISCOVERY OF POSITIVE COMMUNICATION

Discovery of the basic tools of NonViolent Communication (NVC)
Theory on the origins of conflict: strategies to feed our needs
The need that causes conflict: Learning this module allows for the empowerment and understanding of emotions, which are primarily an indicator of unmet or met needs
Listening to oneself: Participants become aware of the importance of connection to oneself, and experience the process of self-empathy
NVC OFNR pathway. After the reception of our judgments indicative of our needs, the process invites us to move towards the Factual Observation of the facts, the exploration of Feelings and the awareness of the Unmet Need that allows us to make a Request
INITIATION TO POSITIVE COMMUNICATION

Discovery and practice of the basic tools of Non ViolentCommunication
The first day "discovering positive communication" Practice of the OFNR process focused on oneself (self-empathy)
Listening to the other person's experiences in terms of feelings and needs by analysing their judgments. Practice of the OFNR process oriented towards the interlocutor. ( empathy)
Basic human needs
The request, the opposite of a requirement
THE FOUNDATIONS OF CARING COMMUNICATION 

Day 1, discovery of positive communication
Day 2, introduction to positive communication with NVC tools
These 3rd and 4th days allow to reinforce the knowledge acquired during the first 2 days. The various themes encountered previously will be dealt with as practice exercises in order to continue the development of benevolence, the power of listening to oneself and to others, dialogue, etc.
Day 3, Learning about demand
Day 4, Welcoming a "No" answer
These 4 days allow the acquisition and the fundamental notions of positive communication in order to continue towards deepening and to set up a practice group within the company .
A practice group self-managed by the participants or with an experienced moderator. This group allows, through regular training, the progressive integration of positive communication and the tools of NonViolent Communication. This practice group also provides a rewarding place for sharing and mutual support.
We offer a practice group once a month.
CONTACT US BY COMPLETING THE FORM BELOW